How to find and apply for a scholarship. Scholarship Scams
We have listed the best scholarship search sites. Learn how to find and apply for scholarships that can help you avoid and protect yourself from scholarship scams.
Request a Loan Today*
*By filling out the form above, you will be routed to OpenLoans.com's loan request form.
Student loans are a fact of life in America. Over 44 million individuals owe a total of $1.52 trillion just for student loans. Here's another fun fact: the cost of tuition is going to keep rising. Just last year alone, the Annual Survey of Colleges done by College Board found that the average tuition and fees of a student in a private college for the school year 2017 to 2018 is $34,740. So, unless you have a deep well of wealth to pay for college, you're going to have to think of an alternative option to student loans.
That alternative option is scholarships.
Despite what you and many other people may believe, scholarships are not reserved for the academically, artistically, and athletically gifted. Just about anyone can get a scholarship as long as he or she knows where to look. Now, where do you start looking? Fortunately for you, there are some really good resources available online that will do the searching for you based on the profile you gave. The search results will list all the scholarships that you may be eligible to apply for based on the information provided. To make things even easier, we've listed the 9 best scholarship search sites below.
The Best Sites to Search for Scholarships
Fastweb is a free-to-use scholarship search site that boasts over 1.5 million scholarships in its database that amount to a total worth of $3.4 billion. What do you need to do? Just sign up and provide them with your relevant data such as ethnicity, academic information, sports, SAT score, and the like. What makes Fastweb the best is that it is updated daily. You can organize the results into several lists, and you're provided relevant info on each scholarship at a glance – the requirements, award amount, and deadline. However, you will need to provide private information when you make an account like your birthday, phone number, and email. You may get spam, and there are "ads" interspersed with the search results.
Cappex has a database of scholarships that total $11 billion, and you don't even need an account to search it. Plus, you can even search for specific scholarships based on one of three criteria – state, gender, ethnicity, and college major. For example, you can search for all scholarships offered in California for women. However, you won't see any information on the scholarships on your list of results. The good news is that in the overview of each scholarship, Cappex provides you with application information such as what the scholarship is all about, the award, and the deadline. You can also find information on how easy it is to apply for a specific scholarship, how much competition there is, and how many winners there will be. Capex offers its own scholarships like the "$1,000 Cappex Easy College Money Scholarship" which entering for only requires you create a profile and let them know what you like doing in your free time. Yes, it's more of a lottery, but that's still $1,000. Just keep in mind that, like Fastweb, some of the results are "ads." If you want the best matches, you need to create a profile and provide private information.
College Board is well-known for providing SAT and ACT resources. However, that's not all it does. It also operates Big Future which is one of the premier resources for finding colleges and scholarships. Students who need financial aid can search through its database which contains 2,200 programs worth over $6 billion, and you don't even need to create a profile. You only need to fill out many details to get results that match your specific situation. Because the search filters are quite extensive, you do get pretty accurate results which are listed according to the deadline date. You'll also see at a glance what type of award is given and the amount. However, there is no year stated on the deadline which can be confusing since it could be last year's closing date. Also, if you don't create a profile, you'll need to keep entering your data over and over again. There is no function to save your search filters.
Scholarships.com has more than 2.7 million scholarships that amount to a total of $19 billion. It requires you to create an account for free which means you may be subject to spam unless you uncheck the box at the bottom of the page when you're creating your profile. Like FastWeb, it offers a lot of helpful guides and articles for students. It lets you see at a glance the important info on each scholarship including a complete deadline date. Here's what makes it different: you can use the save, remove, and favorite functions so you only see the scholarships that you want to see. There are also filters that allow you to filter for scholarships based on criteria like your major, age, SAT score, athletic ability, and financial need. While it is much easier to navigate than other scholarship databases, you can't search for scholarships according to type, and the first few results on your list are ads. Not dealbreakers, certainly.
Unlike the other scholarship search sites we've looked at, Chegg doesn't have a lot in its database. Only 25,000 scholarships with a total worth of over $1 billion. However, its database is one of the easiest to search, and you can perform a search without making an account (though that's free, too). What makes it stand out is that it allows students to search for scholarships based on their age, grade level, and GPA. The search results will list the name of the scholarship along with the amount and the deadline. You can even sort the list based on these two factors. If you want more accurate results and the ability to save your searches, you'll need to make an account. Just be aware that there are ads listed in the search results here as well.
Unigo has the highest amount of scholarships in its database, 3.6 million of them, which totals to more than $14 billion. What makes this site so great is how it organizes all the scholarships, making it easy to search through and find the specific ones that meet your needs. It has many scholarship categories such as company-sponsored scholarships, college-specific scholarships, athletic scholarships, and merit-based scholarships, just to name a few. These categories even have subcategories. Each scholarship is listed with a short overview, total award amount, number of awards, and the deadline, starting with the earliest deadline so you can see if you need to start your application ASAP. For more personalized search results, you'll need to create an account which is free. Unlike other scholarship databases, this one allows you to become incredibly specific in your search parameters. Take note that while it allows you to search its database freely, you'll need the account not only for the customized search but also to see important information regarding the scholarship such as application requirements.
Peterson's has five thousand scholarship providers with 1.5 million scholarships, grants, fellowships, prizes, and forgivable loans amounting to a total award amount of $10 billion. This website allows you to search for scholarships without an account and the results correlate with your answers to a few questions such as the type of student you will be and type of school you plan to attend. You can also search the database by typing in a name or keyword in the search box. Moreover, you can filter the results according to your specifications such as award type, area of study, state of residence, religion, and disability. Each listing shows a brief overview of the scholarship, the organization offering it, the amount, number of awards, deadline, and if the scholarship is renewable. If you create an account, you can save the scholarships that catch your interest. Also, you'll need the account to view pertinent information on the scholarship such as application requirements.
Unlike all the other scholarship search websites we've discussed, CollegeNET has the most unusual interface and is possibly the hardest to navigate. It also utilizes unique mechanics. CollegeNET has its own scholarship which is more like a lottery. You'll see the current amount that will go out within the week. Participating in the topics discussed on the website earns you points as well as voting for other candidates. Then the top 10 people or more will win a $300 scholarship which can be used to pay for tuition or your student loan. Of course, to be able to enter the scholarship contest, you'll need to register an account. Moreover, while the amount isn't going to be as big as what you'd get with other scholarships, this one is a fun way to earn it.
Sallie Mae is known for providing student loans but what most don't know is that it also has a free scholarship tool, Scholarship Search. It has more than 5 million scholarships in its database which have a total award amount of more than $24 billion. You can search the database based on the type of scholarship they offer. If you want more personalized results, you can register an account for free. Doing so will also enable you to receive notifications whenever a new scholarship that matches your profile comes up. You also get to enter the monthly sweepstakes sponsored by Sallie Mae that awards $1,000. The site also has several resources and tools that can help you calculate college costs and future savings.
How to Find and Apply for a Scholarship: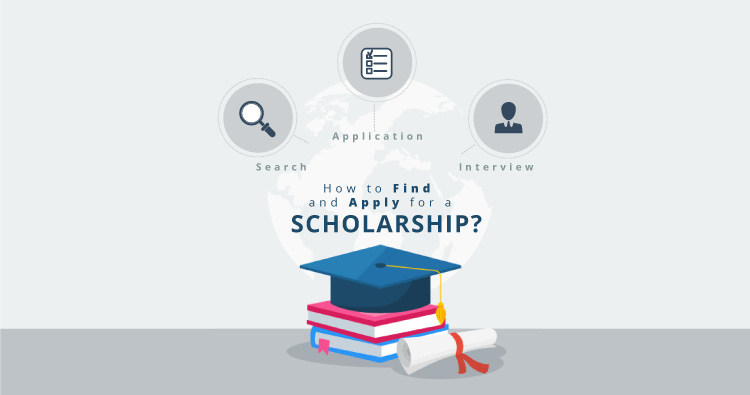 Searching for a college scholarship has been made easier by these scholarship search sites. You can use one or all of them to help you get the financial aid you need and avoid as much debt as possible. These are not your only options. Check with your guidance counselor, local library, companies, nonprofit organizations, community organizations, professional organizations, the financial aid office of the college you're planning to attend, and even ethnic organizations. All of these are great resources that you can use to apply for as many scholarships as you can find. Remember, your goal is to get as much money as you can without having to pay anything back. Don't scoff at the low award amounts. Those may be the easiest to win.
However, that's not even the important part. The key to getting scholarships is time. You need to start your search as early as possible. This way, you're able to check what the requirements are and prepare for them ahead of time. Some will require experience or skills which you may still need to get. More importantly, you'll need time to finish the application and submit it before the deadline. You can't get a scholarship if you aren't able to meet the deadline.
To apply, you'll most likely need to write an essay and provide letters of recommendation. The latter is easy enough to do. But what about the essay? You need to make sure that yours will stand out from the rest of the pile. Below are some tips you need to remember:
Know your reader. Tailor fit your essay to something that they'll be interested in reading.
Use concrete examples; don't be vague. Let them see that you're telling the truth.
Go for unique. Write something the reader won't expect.
Have others proofread your work. Find out if your essay flows smoothly and gives a clear, complete idea to the reader.
After the application is the interview to which the only advice is practice, practice, practice. Make sure you sound confident, not arrogant. Be articulate but not verbose. Also, do your research on the organization, the scholarship, and the organization's goals. Let them know you're a serious contender.
How does a scholarship affect my other student aid?
Yes, the goal is to get as much scholarship award money as possible. But, you need to know that doing so may cause you to receive less financial aid. If your total financial aid package is $300 or more over your calculated need, the college may reduce the amount of financial aid you receive. Don't even think about not reporting it because you may end up having to pay back the money that is considered an "over-award." To determine what your college's policy is regarding scholarships and financial aid, it's best if you contact the financial aid office.
Scholarship Scams: How to avoid them
You can't believe everything you see online. That includes scholarships. Some that you'll find online are scams, and the best way to identify them is when they ask you for a fee in exchange for a scholarship. Some will even promise a money-back guarantee or require your banking information to confirm eligibility. While some commercial aid advice services do charge money to help you find aid, you need to make sure that you'll be getting your money's worth. Don't trust guarantees. Remember, you want to get money, not lose it. There are a lot of free resources out there. If possible, stick with those.
Identity Theft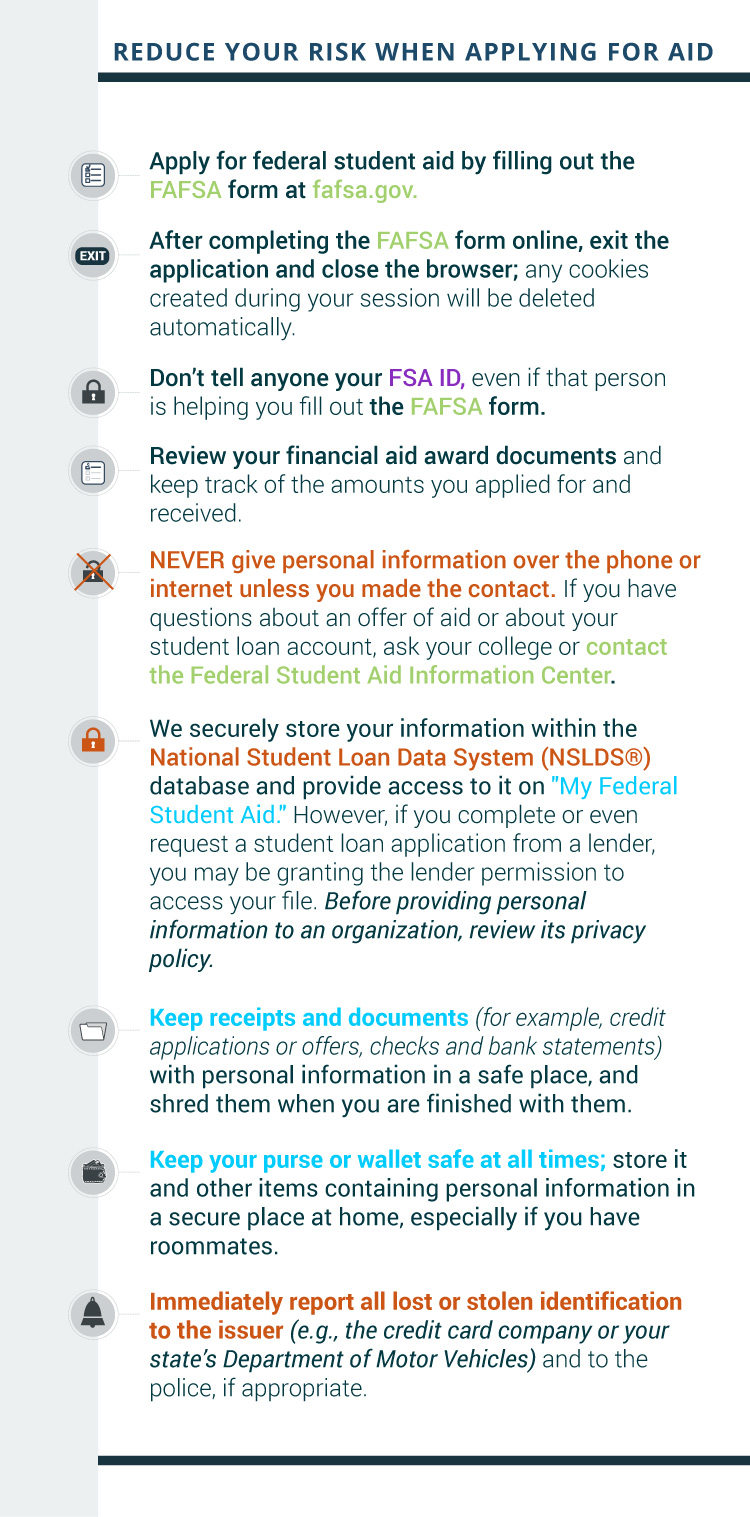 We all know the risks of identity theft nowadays. It can happen to anyone. If you're applying for scholarships, there are some ways that you can become vulnerable to it. One is by providing a company or organization your credit card or bank account number without ensuring that they're legitimate entities.
Reporting Scholarship Scams
If you think that a financial aid company is committing fraud, you can report it to the Federal Trade Commission and the Consumer Financial Protection Bureau. If it's fraudulent activity by a college, you'll need to make a confidential report to the US Department of Education's Office of Inspector General Fraud Hotline.
Keep in mind that you won't always get the award no matter how well you think your essay was. There's plenty of other scholarships out there. Eventually, you'll find ones that will help you start your life as debt-free as possible. And hopefully, you'll keep it that way.
Additional resources: