How Much are the Average Costs of a Wedding
We all know that weddings come with a price tag. But few of us realize just how expensive it can be until we're about to foot the bill. If you're planning a wedding right now or just planning ahead for the future, it can be very helpful to know the average wedding cost and what wedding expenses to expect. As much as we all want to have the wedding of our dreams, we still need to keep one foot in reality. Not all costs are necessary, and there are some elements of a wedding that you can probably do without. Our guide should give you everything you need to know about wedding costs and creating a wedding budget, so you know just how much you'll be spending when you say, "I do."
Request a Loan Today*
*By filling out the form above, you will be routed to OpenLoans.com's loan request form.
What is the Average Wedding Cost?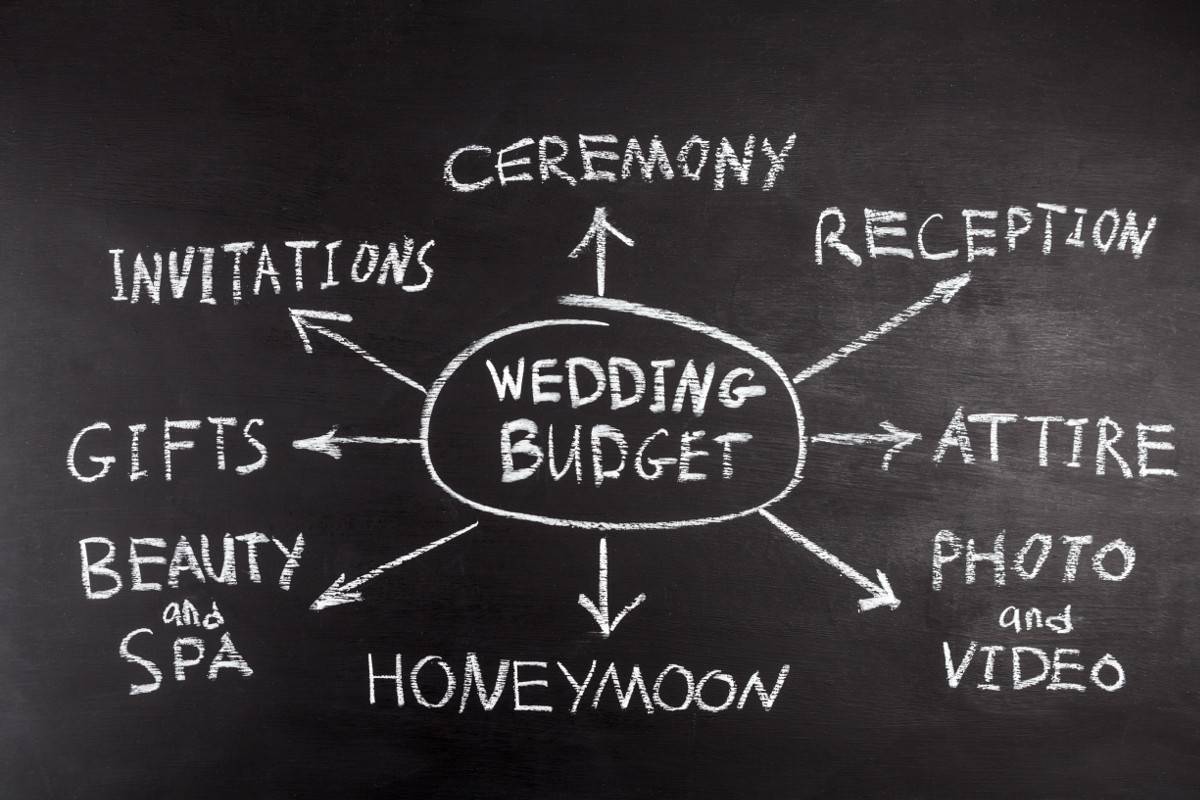 The average wedding cost in the U.S. is $33,931. That's pretty steep, and you haven't even included the expenses you'll incur for the honeymoon.
Of course, that's no reason to be discouraged. You can still have a great wedding to celebrate marrying your true love without splurging that much money. Experts claim that the national average can be skewed by a handful of weddings that cost $1 million or over. Plus, that number varies greatly between states. In short, this amount is more like a point of reference than an actual projection.
What are the Most Common Wedding Expenses?
A lot of elements make up a wedding. There's the reception venue, ceremony site, transportation, wedding attire, photographers, food, flowers, etc. Some of these components can be very expensive, while others can be a lot cheaper.
Reception Venue
According to The Knot 2018 Real Weddings Study, the average cost of the reception venue is $15,439. Based on a bride survey, the average couple spent an average of $12,343 to $14,006 for their venue. Of course, the actual cost will differ depending on the venue you choose, the season the event will take place, and what's included in your package. Some places will include equipment rentals (e.g., tables and chairs) as well as bar service and food.
Wedding Attire
The wedding dress and the groom's suit can make a huge percentage of the total wedding cost. Each bride will have her own idea of how simple or extravagant her wedding dress should be. The cost of a wedding dress ranges from $400 to $1,700; most brides shell out approximately $1050, though this price does not include the cost of accessories and any alterations. Suits, on the other hand, are much cheaper, with an average cost of $283 to $350. Most grooms prefer to rent their suit rather than purchase. Of course, some couples will opt to wear non-traditional wedding attire, which can cut down on this expense. Others will opt to buy more than one dress or suit for their celebration.
Ceremony site
Church weddings are not usually expensive. However, a lot of couples nowadays prefer to get married in a scenic location like at the beach. This, of course, adds to the total cost of the wedding. In 2013, the average amount spent on ceremony sites was $1,793.
Wedding Rings
Wedding rings are a symbol of union. For some couples, this is a wedding must-have. A plain and simple band can cost you around $300 to $1,500. More intricate ones that feature diamonds or other precious stones can cost as much as $6,000 or more. Naturally, you'll need to buy two of these.
Wedding Cake
What's a wedding without a cake, right? The good news is that the price of a wedding cake will vary, which means it's only going to be as expensive as you want it to be. The more elaborate your cake is, the higher the cost will be. You also need to consider how many guests you need to feed. The cost of a wedding cake is typically calculated per slice. The average cost of a slice is $3.90, which already includes design costs.
Catering
If the venue chosen does not include food in its price, then a caterer will need to be hired. Like the wedding attire, food also takes a huge part of the wedding budget. Some studies state that the average catering cost per guest is $70. Another said that the average cost in the US is $40 per guest. For a buffet, that cost goes down to $27 per person. Most couples spend around $1,800 to $7000 for catering. Just take note that the price will vary based on location, the number of guests, staffing, and the wedding bar.
How to budget for a wedding
Obviously, weddings do cost a lot. But, as we've said, you needn't worry too much. You can definitely create a budget for your dream wedding that you can live with. One of the things you can do is to consider a personal loan for a wedding, which will help you pay the bill off over time. Just make sure to follow these tips:
1. Count your cash
The first order of business when planning a wedding is to find out how much you're willing AND able to spend. This amount will include any savings you and your fiancé have set aside, the amount of money you can use from your current income, and any money you receive from parents, friends, and family.
2. Consider What Features You Must Have
Once you know what your budget is, it's time to discuss what wedding elements you must have and what you can do without. Make a list of everything you want and write down an estimated cost. The total estimate should equal or be less than your set budget. Once you have an estimation of the total cost, consider all the ways to financing such as finding online loans or using your savings accounts.
3. Compare prices
When you already know what wedding features you want to have, it's time to do some comparison shopping. Ask for quotes from various vendors so you can calculate an estimate your total bill. Talk to friends and family. You can even join the bride or wedding forums. They may know where to find the best value options. Also, make sure to take note of what's included in the price. As we've mentioned, some venues include equipment rentals and even food in their prices.
4. Location, Location, Location
Where you get married has an impact on cost, and it's not just the venue we're talking about. The costs of wedding features change depending on the state you are in, as well as whether you are holding the wedding in a metropolitan area or not. So, make your choice of location wisely. Here are some examples:
The most expensive place to get married is in Manhattan, where the average cost of an entire wedding is $88,176, and the average cost per guest is $630.
Southern Florida is the second most expensive place where the average wedding cost is $51,073. The average cost per guest is $365.
Mississippi is the least expensive state to get married, with an average cost of $12,769. Guests only cost an average of $91.
5. Plan Your Guest List and Stick with It
The number of guests at your wedding will have a great impact on your expenses across the board. For example, 10 guests will make up 1 table and require 10 plates of food, 10 chairs, 10 wedding favors, etc. Keep your guest list manageable and within budget. Don't bow down to pressure and invite your great-aunt's cousin twice-removed just because your nana said it must be done.